Are you making decisions as the confident CEO or are you constantly working in your wig business doing things with uncertainty and feeling
overwhelmed?
Good News! There's actually a more effective way to run your wig business. Let me show you.
Get Ready for Operational Excellence.
 

A 10 week coaching program that teaches established wig entrepreneurs how to effectively set up and automate their backed operations and run their business as a confident CEO.
The wig industry is booming, but competition is fierce. Many wig businesses struggle to stand out in the crowded marketplace, attract their ideal customers, and convert leads into loyal buyers. Without the right knowledge and guidance, it's easy to get overwhelmed and stuck in a cycle of stagnation. That's where Operational Excellence for Wig Businesses comes in.
Operational Excellence for Wig Businesses is a comprehensive and transformative coaching program that will empower you with the skills, strategies, and mindset needed to drive your wig business to unprecedented levels of success. This program was carefully crafted to provide you with the practical tools, industry secrets, and personalized support you need to build out your backend business structure and become a true Wig Business CEO.
Stop mimicking what you see other wig businesses doing!
Truth bomb: You want to make decisions as a CEO and know how to effectively set up and automate your backend operations and run your wig business as a confident CEO... And badly! 
But your efforts thus far haven't helped you get there. 
Maybe you've learned some lessons (like what NOT to do), but no matter how much you work at it… you still somehow backslide into old habits or feel overwhelmed… with little to show for it.
Giving up sounds tempting when it looks like NOTHING will work. But the thing is... you're COMMITTED to solidifying your wig business so that it is set up for long term success.
You've already tried…
Taking DIY marketing classes and courses
Participating in 30 day accountability challenges on IG
Booking strategy calls with business experts 
Hired a coach that is not wig business specific
It's frustrating and demoralizing to feel like you've tried (or at least considered) it all, and to be honest you're TIRED and ready for a different way.
I know why you're here...
You want clear next steps to take in order to grow your wig business.
You want to have solid backend systems that will allow you to focus more on creating wigs.
You want to be a customer attraction magnet and the go-to wig business for your ideal customers.
You want to make decisions as a confident CEO while growing your wig business.
If you've nodded your head and thought to yourself that this is you....you are in the right place.
Operational Excellence seeks existing wig business applicants with specific criteria.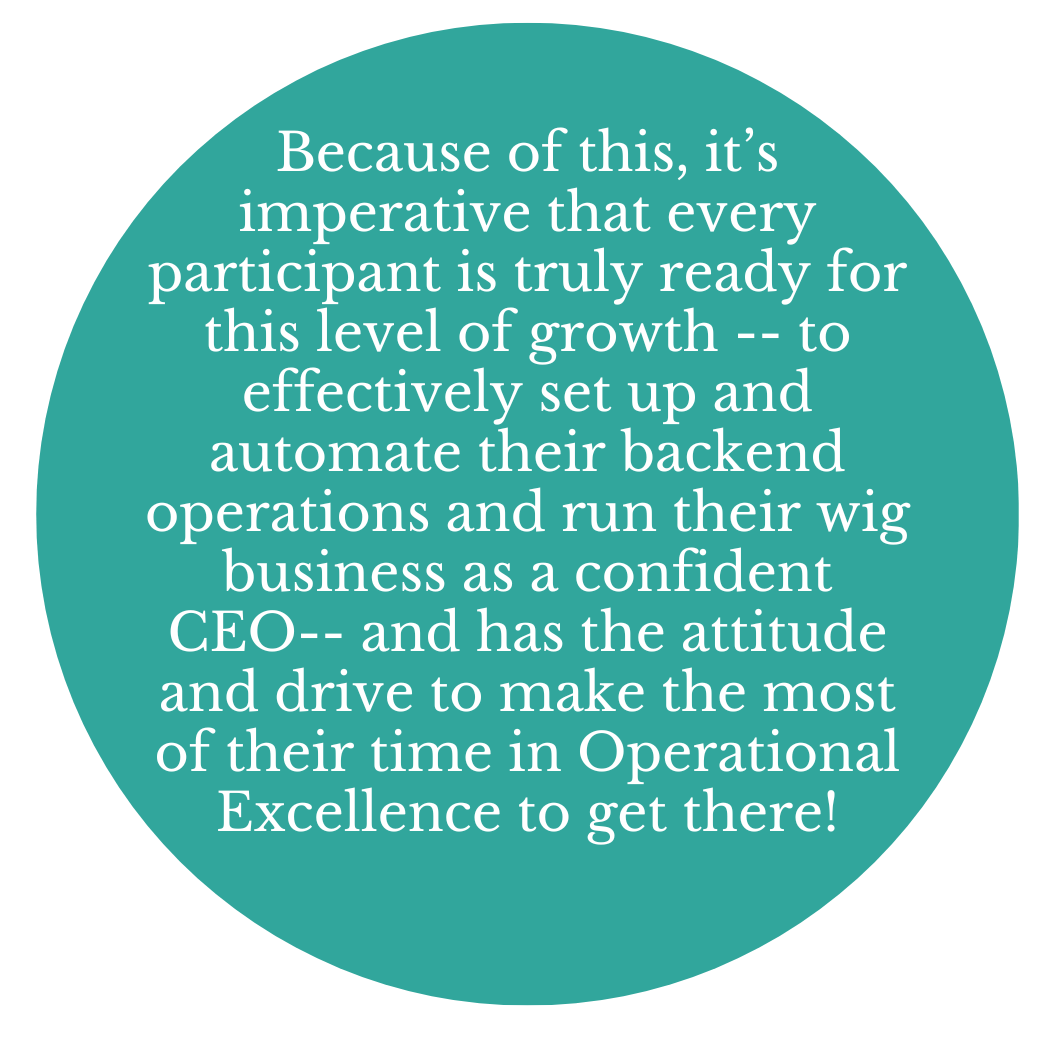 Here's what we are looking for, and how to know if Operational Excellence is right for you:
How we'll work together through Operational Excellence
The format of Operational Excellence is what makes it truly unique and helps you achieve results that were previously not possible.
When we speak, I'll explain the entire format and structure in detail.
For now, what's most important to know is that we use a blend of…
Over your 10 weeks working through Operational Excellence, we will focus on the following areas and goals:
➕Week 1: Mindset Shift, Goal Setting & Business Roadmap
Cultivate the mindset of a successful CEO. Define clear goals and create a roadmap for your wig business success.
---
➕Week 2: Business Clarity: Who is the customer-What is their problem-What is the solution
Gain a deep understanding of your ideal customer and their wig-related challenges. Develop a clear solution to address their needs and stand out in the market.
---
➕Week 3: Business Structure: What are your offers/services? Clarify your Signature Wig Style
Refine your offers and services to cater to your customers' desires. Craft a signature wig style that sets your business apart from the competition.
---
➕Week 4: Customer Attraction: Quality Lead Magnet Creation
Learn effective strategies to attract potential customers. Create high-quality lead magnets that engage and entice your target audience.
---
➕Week 5: Social Media & Content Creation: Lives, Reels, Intentional Content, Planning
Leverage social media platforms to promote your wig business. Master the art of creating engaging content, including live videos, reels, and intentional content planning.
---
➕

Week 6: One-on-One Calls

Receive personalized coaching and guidance tailored to your specific business needs. Address challenges, seek clarification, and gain valuable insights during private coaching sessions.
---
➕

Week 7:

Customer Journey- Landing page/Website Backend

Optimize your customer journey by designing effective landing pages and a unique website experience. Create a seamless online experience to drive conversions and enhance customer satisfaction.
---
➕

Week

8

:

Email Marketing

Build an engaged email list and develop compelling email content. Design effective email campaigns to nurture leads and boost conversions.
---
➕

Week

9

:

Sales/Giveaways/Raffles

Discover powerful sales strategies to drive revenue growth. Learn how to run enticing giveaways, raffles, or promotions to engage your audience and increase sales. Create a documented process to execute.
---
➕

Week

10

:

Outsourcing: How and What to Delegate

Learn the art of delegation and outsourcing to maximize your productivity. Identify tasks that can be delegated and effectively manage freelancers or virtual assistants.
---
Truth is: This Coaching Program is

NOT

for Every Wig Business...
Warning
This program won't be for you if:
You are not interested in rolling up your sleeves dedicating your time to do the work.
You want to be coddled or need your hand held to get you to do the work expected of you.
You expect overnight results an unrealistic timelines and expectations.
You're brand new wig business and have never owned a wig business at all before (this may be a little too advanced for you).
You have major mindset issues that causes you to self-sabotage regularly and you give up easy.
We are 100% Committed to our Clients inside Operational Excellence!
"Tee is a good instructor and an encourager, she makes sure you understand every bit and put it into practice. But the one that baffles me was her quick reply when ever you ask for questions. She even went as far as helping me to chose a name for my brand, secured my social media page and domain name. Tee you are the best. I rate you 💯"
Doris Ozurumba
"When I tell you this was one of the BEST investments that I have made for my business. This program really give me focus and clarity. I'm so excited for the future of my business. If you are on the fence about taking this course. Don't be!! Tee, you are absolutely amazing!! Thank you 💜"
Melody Jones
"This program was an investment to myself and provided me with the foundation that was necessary for my business. Tee is a great educator and the knowledge she provided in depth each week to us is a testament that she wants us all to succeed!".
Shirley Compaore
Master the fundamentals of running a successful wig business
Learn strategies to attract and retain customers
Streamline your operations and maximize efficiency
Develop your leadership skills and step into the role of a confident CEO
You're here reading this page because you have a wig business right now and you're SO done with….
Spending hours & hours everyday watching different business experts on LIVE, signing up for free courses and doing different strategies with no support or clear next steps.
Spending hours on social media and simply NOT seeing the results you want.
Trying, reading, learning, and consuming EVERYTHING, like trying to "hack the algorithm" every other week when it changes, and even struggling to keep up with all the latest trends, yet still feeling really overwhelmed and lost.
Investing in courses and programs that don't or won't help your wig business specifically.
You're tired of wasting time, money, and energy on methods that give you ZERO results.
You're ready for REAL answers. REAL support. REAL community.
Which is why you're the perfect candidate for Operational Excellence.
Results don't happen by accident.
They happen because you have followed a system and process, taken the steps, done the work, and received the help necessary to get where you want to go. Period.
If you're ready to finally see those results you've been wanting in your wig business, let's do this.
OUR GUARANTEE
We are 100% committed to helping you effectively set up and manage their backed operations and run your wig business as a confident CEO.
That said, you might still have hesitations about whether what you're reading on this page is truly possible for you and if Operational Excellence is the best choice to get you there.
Here's the deal: Operational Excellence is an elite option and the investment reflects that. That might make you question if it's really "worth it," and I get that.
So in case you are still hesitating to apply, here's a guarantee that you can bank on:
I am willing to promise you that if you participate in all of the calls, implement all of the work, and do not have your business backend set up, functioning and manageable as a result of Operational Excellence, then I will work with you until you do with additional resources and training as needed.
If you're truly ready to be a confident CEO in your wig business and have effective backed operations set up and running and you're willing to do the work to get there with the guidance and support of Operational Excellence, there is absolutely no reason NOT to apply today.
Still Have Questions?
Read Below.
Who is this program suitable for?
Do I need prior experience in the wig industry?
What is the time commitment required for the program?
Will I receive support during the program?
Can I get a refund if I am not satisfied with the program?
What's the investment of this program?
Is this a one-on-one coaching program?
I'm ready! How do I get started?